Pacific Northwest Gardener's February Checklist
February is an exciting time in our region's gardens. This is the month when we go from planning to doing. Dust off those gardening gloves and enjoy a few leisurely hours doing what gardeners do best — puttering. Does your garden need a little something? This is a great excuse to head to your favorite nursery and see what's shining this month. While you're there be sure to pick up seeds for your favorite flowers and vegetables. Of course, you can't possibly come home without at least
one
new rose, can you? My favorites are the ultra fragrant English roses. What about you? And can you honestly resist those cute little pots of
pansies
, primroses and dwarf daffodils?Just a couple of dollars and you'll give your winter containers a new lease on life. Consider me your personal gardening and shopping coach!
More regional garden guides
February highlights.
There should be something in your garden that brings you joy every month of the year — maybe it's unexpected fragrance or a bright splash of color. Or perhaps it's the birds a particular plant attracts.
Witch hazel
(Hamamelis mollis)
has all three of those qualities thanks to its spidery flowers this month. Be sure to include at least one of these great shrubs in your winter garden.
Salad greens
are easy to start now in an unheated greenhouse, with a layer of
row cover
for protection on especially frosty nights or under hoops outside. These greens make a great cut-and-come-again crop and taste so much better when they go from garden to table in just minutes.
A
cold frame
also extends the harvest and leaves extra room inside the greenhouse. It is also invaluable for hardening off seedlings next month as you get them ready to be transplanted into the garden.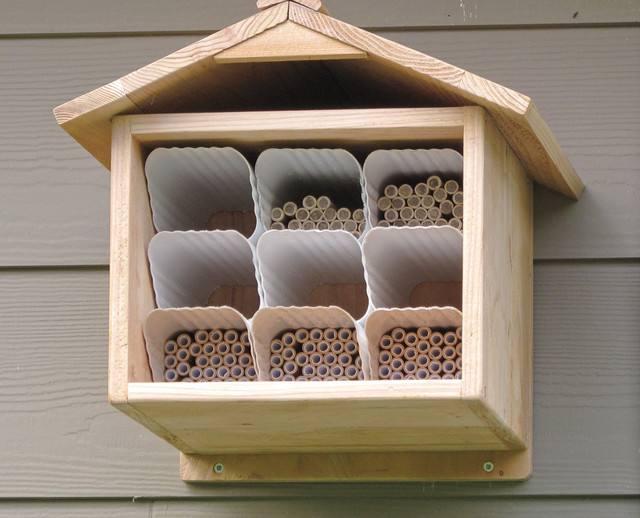 Move the mason bees outside.
Now is the time to wake those
mason bees
up! Place them where they will receive warm sun but are protected from rain. We made this simple mason bee condo using scrap lumber and pieces of downspout pipes. The tubes at the top are filled with mason bee cocoons, while the lower ones are ready to be filled by the next generation of bees. We had to modify this design, however. Swallows nested in the apex the first year and feasted on breakfast in bed. So we've since added some fine mesh so the bees can come and go in peace.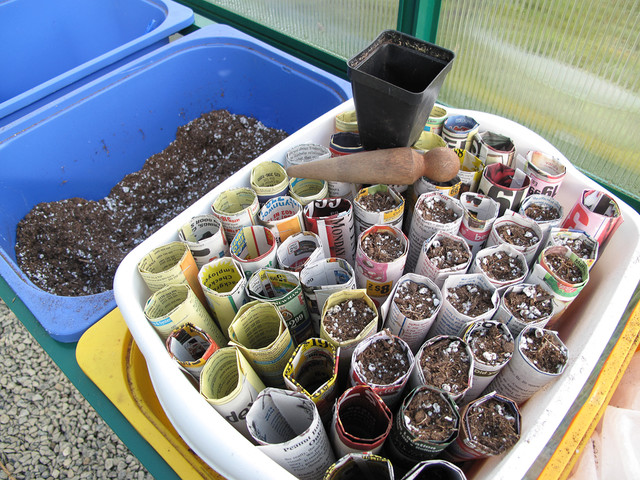 Start your sweet peas.
Surely
sweet peas
are one of the highlights of a summer garden. Their intoxicating fragrance and romantic color blends make them a must-have for a sunny spot. Nurseries usually carry seedlings, but they are so easy to grow yourself.
Renee's Garden
is considered one of the top seed sources for sweet peas. Make tubes from newspaper, pack them gently with potting soil and add one seed (soaked overnight in water) per tube. Each seedling will develop a much deeper root system than those in shallow nursery pots, and the entire tube can later be planted in the garden. This is a fun project to do with children of all ages.
Plant roses.
Bare-root and potted
roses
are available this month. Look for those with multiple strong canes and an outward-facing structure. Ask your nursery professional for advice on which ones are disease resistant, fragrant, heirloom varieties or long bloomers. There are so many to choose from.
Thanks for Joining Us –
Paradise Restored enjoys designing for all styles and size of properties. Visit our gallery of works: http://www.paradiserestored.com/portfolio/   Every project is unique and each property presents different design plan solutions. We look forward to coming out to view your property if you've been thinking about a landscape transformation. Please contact us for your Complimentary Consultation @http://www.paradiserestored.com/exterior-landscape-design/contact-us/
Comments are closed.